Natalie Jones (Melissa Gilbert) who is the daughter of Judge Charles Evers Trevor's is looking up at her recently deceased father's favorite painting; of two horses running and playing.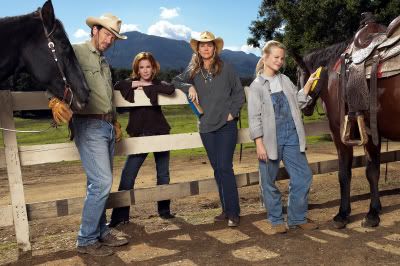 When Abygail Jordon (Nan Martin) the Judge's longtime housekeeper who helped bring-up Natalie; walked into the room. They talked a while and then she handed Natalie a locked wooden box with a key.
Abygail told her--- your father had something he wanted you to know---but being a man never got around to it.
Abygail left the room and let Natalie be alone with her father's past. After she viewed the information she called her friend Larry Gorman (Robert Mailhouse) an attorney who worked in the same law firm with her. Although Natalie was a top attorney in the firm; she valued Larry's opinion.
Natalie did not know her father was married before he married her mother; to a famous "Rodeo Queen" named Maggie Mae Jarret. She found a picture in the wooden box of Maggie Mae and her dad who she called "Charlie."
Natalie Goggled Maggie Mae Jarret online and found she lived in California also. So she planned a trip to find out more about her.
When Natalie arrived she stopped at the local restaurant and ordered a bowl of Chili. Then followed the waitress' directions carefully; she finally arrived at her destination. She pulled behind an old work truck at the cemetery.
Natalie walked carefully on the dirt and grass as she looked for the gravesite. Finally, Natalie stood at Maggie Mae Jarret's grave. To her right she heard a rattling sound then she saw a huge rattlesnake. She froze it frightened her so; then all of a sudden a woman walked up behind her and said do not move.
It will leave when it realizes you are not going to hurt it.
"Are you here about Maggie Mae?"
Natalie rplied, "Yes I am writing an article on rodeo stars."
"My name is "Jess" Jess Jarret (Lindsay Wagner) ---Maggie Mae was my mother."
Natalie looked shocked, "I didn't know she had a daughter."
"Yes I am her daughter--- and you look a little sick."
Natalie told her no--- she had eaten some Chili at the little restaurant.
Jess told Natalie to follow her home to learn more about Maggie Mae. But instead Natalie had to lie down she felt so ill.
Natalie met Lulu Nichols (Lindy Newton) after she arrived home from school. Lulu is Jess' adopted daughter. Lulu had chores to do so she left Natalie on the couch with a rag on her head.
This is how she met Sam Nelson (Brian Wimmer) the local Veterinarian who is part of Jess' family.
And now the good part of the movie begins---so I will stop before I spoil it for you. This is a very good movie. It has heart, kindness, dedication, family values, fellowship, love and romance.
© BEPH

2012
All Rights Reserved
Action and Adventure Actors---50 of My Favorites: Link Below:
http://purvisbobbi44.hubpages.com/hub/Action-and-Adventure-Actors-50-of-My-Favorites
Tom Selleck in Jesse Stone's 8th Movie---"Benefit of the Doubt." ---Link Below:
http://purvisbobbi44.hubpages.com/_ll5zmu0qryfw/hub/Tom-SellecksPremiere-of-Jesse-Stones-8th-Movie-Benefit-of-Doubt