Joan Wilder (Kathleen Turner) is an extremely successful venturesome romance novelist---who lives in New York City---with her cat Romeo. Joan writes about action, adventure and romance just as she desired to experience it.
Full of thrills, titillating romantic adventures which changes within a heartbeat, into the abyss of excitement; which Joan lacked in her life. However, she could write about it and bring it to life in the pages of her books.
She is totally different from her character Angelina, who is beautiful, sexy; self-reliant and loves her hero Jessie. It was her imagination and with her typewriter she brought her hero Jessie to bigger than life in every novel. Joan---an excellent writer who lived through her novels---to give it more ambiance; enjoying every second until she typed her last word.
Excitement did not

reign

in her life as a writer's she had
little time to

socialize

; because of her dedication to writing. Her small circle of friends included her agent Gloria (
Holland Taylor
); whom she had a meeting with in a local bar to deliver her just completed novel to her.
Gloria tried to get Joan interested in some of the men in the bar; but to no avail. Joan let her know they did not interest her. Gloria said: Why not because they are not Jessie? Joan replied: I know there is someone out there for me. It seemed to Joan they has this same conversation each time they met.
Joan worried about her sister Elaine (Mary Ellen Trainor) who is in Columbia where her husband was recently murdered. She probably thought about this as she opened the door to her apartment and found it burglarized, and before she could call the police to report it her sister Elaine called. She asked Joan if she received an envelope from her husband and did it contain a treasure map?
Ralph (Danny DeVito) and his brother Ira (Zack Norman) kidnapped Elaine and stood by her side as she telephoned her sister Joan. Joan verified she received the package and her sister asked her to bring it to Columbia.
So Joan is now on her way leaving her cat with her agent until she returned.
Joan arrived in Columbia and luckily missed connecting with Ralph who was there to drive her to her sister Elaine. But Joan boards a bus to
Cartagena
or so she thinks. She got on the wrong bus because she accepted assurance from the same man who burglarized her apartment, and killed her super in New York City and is stalking her for the map.
The bus accidentally runs into a parked truck filled with birds. The other passengers leave to walk the bus route; while the wicked stalker talked Joan into waiting for the next bus. And, while she waited patiently sitting on her suitcase, the man who wanted the map pointed his gun at her.
This is the moment Jack Colton (Michael Douglas) a Soldier of Fortune showed up on the hilltop, and the stalker with a gun shot a hole in his water pouch. Then a gunfight breaks out as Jack chases the bad guy away sending his bullets flying over his head as he runs away.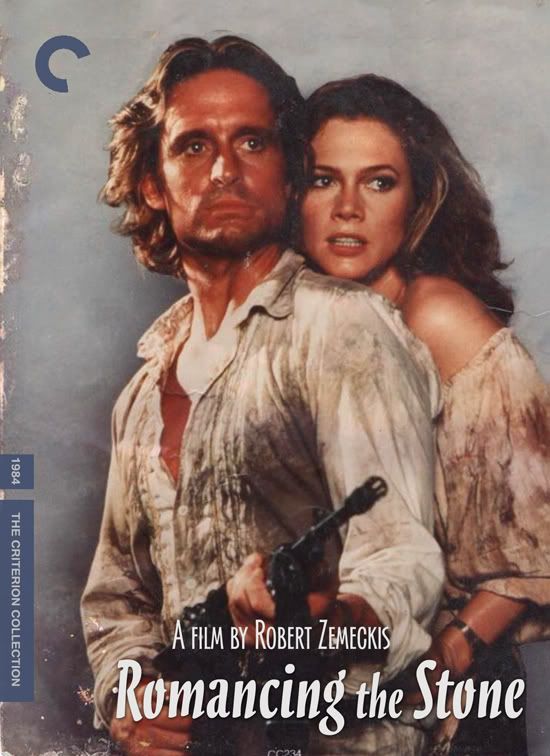 Then Joan asked for Jack's help to get to Cartagena and offered to pay him. Jack asked for $500.00; but settled for $350.00 in travelers check. And, then the adventure of Joan's life is born; and so is our movie entertainment.
We can travel along with them through the jungles, mudslides and Crocodiles. We watched as their relationship developed on a closer level; and Joan starts to enjoy her adventure.
So, the once mousy Joan becomes a real beauty as her journey continued and she blossomed into a woman who likes having fun.
Joan's true life adventure out shined her character Angelina's in her novels, and Jack emulated
Jessie's character so closely it is chilling.
I became a fan of Michael Douglas and Kathleen Turner from this movie, and I am still one of their greatest fans, today. I hope you enjoyed my review and please return for more. Thanks.
© BEPH 2014
All Rights Reserved
PurvisBobbi44 is the sole author of this Blog and if it is seen anywhere
else on the Internet or in print it was taken without my consent.